Option
Details
SUMMARY

Present your Printed or E-mail Voucher


Free Cancellation up to 3 days before the booked date
HIGHLIGHTS
1. This is a high-class Hanbok rental shop + professional photo-taking studio located in Insa-dong.

2. You can receive about 30 to 40 copies of the original photos for free via email!

3. Provides photo frames and wallet size photos allowing you to treasure the special moments through the photos.

4. Take a selfie at the amazing photo zone located inside! You can use indoor photo zones or even go outdoors wearing the Hanbok.

5. Personal/group shooting service is provided when purchasing the package.

Located in Insadong street, which preserves the beauty of history and tradition, Hanbok Damda provides convenience to visit Gyeongbokgung Palace and Changdeokgung Palace. Unlike other Hanbok stores that only rents out hanbok, there is a studio inside the store and a professional photographer with 10 years' experience, providing you high-class photo shooting on spot!. Take a selfie with your phone at the indoor photo zone or let a professional photographer offer you a reasonable price!

• Hanbok Damda is a Professional Hanbok Photo shooting Studio.

• At Hanbok Damda, indoor photo zone is arranged for you to enjoy taking photos wearing the Hanbok.

• The Professional photographer will kindly inform you various poses which is suitable with the Hanbok concept.

• After the shooting, 3~4 hours free time will be given where you can enjoy the outdoor wearing Hanbok!

• When Couple/ Family package purchased, you will be given High-quality photo / frame and wallet sized photo! You can also receive full-length photo and photo-shopped photos via email.

• Create unforgettable memories by wearing High quality Korean Traditional Clothes.

• Dress up using accessories and Daenggi provided in the powder room!
INCLUDES
Indoor Photo Zone for 30 minutes


Indoor Photo Zone for 30 minutes


Traditional or Fusion Hanbok Indoor Rental


Photo shoot with Professional Photographer (With personal phone)


Use of all props available


Hanbok Bag, Gat and Shoes rental (Indoor)



Hanbok Outdoor Rental


Professional Photo Shooting


Photoshop


Frame


Professional Hair Styling (5,000won)


Professional Make up (Female 30,000 / Male 10,000)


Photo Print (15,000 won ~100,000 won)


Hanbok Bag, Gat and Shoes rental (Outdoor) (2,000 won~3,000 won)

HOW TO GO
• Subway line number 5, Jongno 3-ga, Exit 5 → Walk towards Insadong (Supyo-ro) → Pass Samil-daero and walk into Insadong Street → Walk straight then turn left at the 3-intersection.
HOW TO BOOK
1. Select the preferred date from the option
2. Click 'Book Now'
3. Please refer to the example form below and fill out the special request.
Please list them in order of preference: 10:00, 11:00, 12:00, 13:00, 14:00, 15:00, 16:00
4. Click 'Reservation'
5. Make a payment and it's done!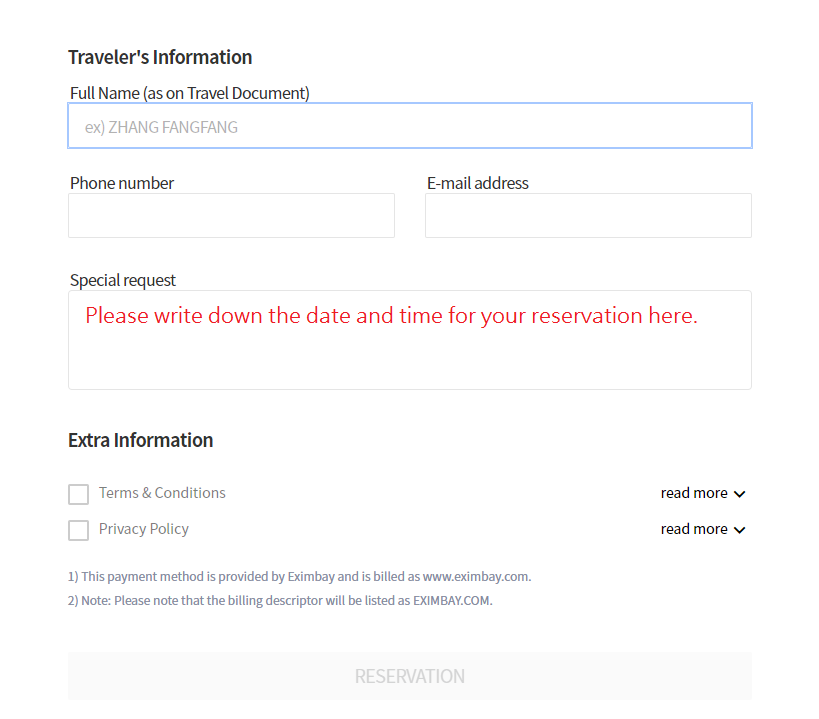 IMPORTANT NOTICE
1. If Professional Photographer wanted, make the reservations at 9:30AM ~ 12PM, 4PM~6PM.
2. (Package) It can take up to 40~60 minutes for Photoshop and printing. If it takes more than 1 hour due to circumstances on the day at the studio, the photo frame will be sent to the hotel. (However, Jongno/myeongdong is free of charge, Hongik Univ Station and Gangnam area is 10,000 won extra fee required)
3. You can wear up to 2 different types of Hanbok when choosing.
4. Operation time will end at 22:00 during the Gyeongbok Palace Night Attraction.
5. If the Hanbok is severely contaminated or torn, there will be a penalty in accordance with the regulations.
6. Additional expenses will be incurred if return time is exceeded (5,000 won per hour). However, no refund will be given even if returned before the rental time ends.
7. You will be contacted by the CS Team when reservation on the day of your choice is not available due to the venue's situation.
8. Under Skirt, Korean Traditional ornaments & Daenggi and Lockers are provided to use freely!
Reviews - 0