Option
Details
SUMMARY

Present your Printed or E-mail Voucher


Free Cancellation up to 3 days before the booked date
HIGHLIGHTS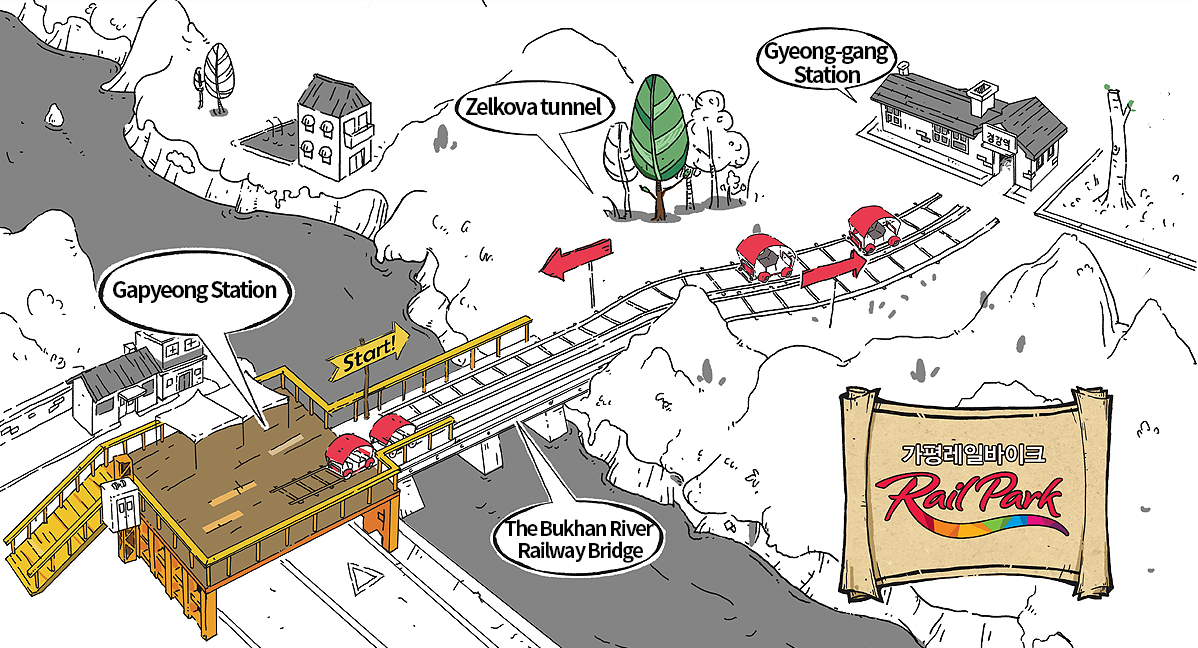 1. Enjoy beautiful natural scenery in Korea!
2. Located in Gapyeong, near Seoul, the place can be visited by using Seoul subway
3. You can feel the beautiful nature of Korea in all 4 seasons, Spring / Summer / Fall / Winter
4. It is a romantic course to Gyeonggang Station, the filming location of the movie, "The Letter," and highly recommended course for couples
INCLUDES

2 or 4-Seaters Railbike
HOW TO GO
• Get off of Gapyeong Station (Subway Gyeongchun Line) and move 2km towards Gapyeong town. (30 minutes on foot, 5 minutes by taxi)

- By walking: 30 minutes
- By taxi: 5 minutes
- By bus: Take bus no. 33-16 and get off at Nonghyup in Gapyeong-gun. → Walk back → Go left to the alley
- Google Map → CLICK HERE


important notice
1. Gangchon Railbike is a very popular product that your reservation cannot be made at a desired date and time. In this case, our CS Team will contact you via email. Please check your email!
2. Children and elderly passengers must be accompanied by a guardian.
3. Infants under 36 months old are not allowed to ride the railbike for safety reasons.
4. Please do not take unnecessary actions, such as sudden stoppage, unauthorized departure, and playing with other people while riding railbikes.
5. Be careful of your hands or feet not to get caught in rotating chains or wheels.
6. Please keep the safety distance at least 20m to prevent collision with other railbikes.
7. Drinking or smoking is prohibited while riding railbikes.
8. Please get off from the railbike after the railbike has stopped completely.
9. If you lose your ticket, you cannot board nor get a refund.
10. Pets are prohibited on the bike.
11. You must arrive at the station 20 minutes before departure.
12. For your own safety, operation hours may be rescheduled.
13. Present voucher at the ticket office or tell the last 4 number of reservation number! (ex. 7210 of KG95C401597210)
Reviews - 0